Tap into the power of Google Shopping and introduce your brand to an audience that's actively seeking your products.
As Google Shopping specialists, we can help you set up your product feed, manage your ad campaigns and optimise your landing pages for maximum performance.
Google Shopping is the Internet's most heavily trafficked comparison shopping engine. It's a highly effective sales channel that allows users to search for products and compare brands, and gives you the opportunity to get your products where they need to be: in front of potential customers.
Unlike other online marketplaces, Google Shopping does not sell products directly to customers. Instead, it collects product information from participating sellers, promotes products through relevant ads and connects users with retailers. When a user clicks on your ad, they're directed to your landing page to complete the transaction.
It's a simple, highly visual experience that stands out from other text-heavy advertising services. As a result, Google Shopping ads drive 76.4% of all retail search ad spend and generate 85.3% of ad clicks.
Google Shopping ads can be displayed in a variety of places across the web, including the main search engine results page, the shopping tab, Google Search Partner websites and the Google Display Network.
Why choose Harper Digital as your Google Partner?
Harper Digital is a proud recipient of the Google Premier Partner badge, a title that Google awards to companies it trusts to handle Google Ads. In the words of Google, "The badge recognizes companies we trust to help you succeed on the web with our products."
The badge isn't handed out to just any old advertiser. To earn this distinction, you must be able to continuously meet the notoriously high standards set by Google. To become a Premier Partner, a company needs to demonstrate extensive Google Ads experience and a high level of success in client revenue growth. 
Google Shopping certified
We're Google Shopping certified, which means Google recognises our ability to use Shopping ads to help our clients maximise reach and conversions.
We can assist with every aspect of Google Shopping, whether it's configuring your Google Merchant Center Feed or optimising your Google Shopping campaign for superior ROI.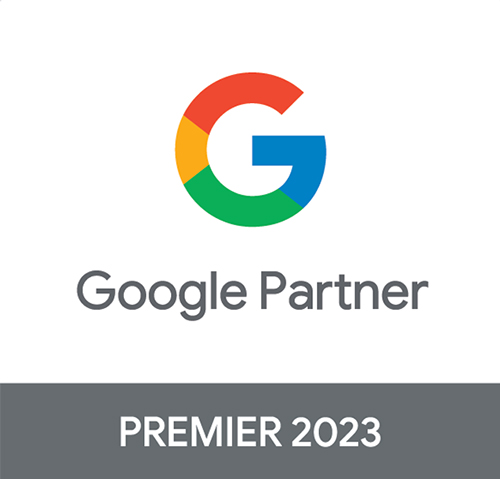 Your goals are our goals.
To make sure we're all on the same page, we provide you with a dedicated marketing advisor to help you get the most out of your ad campaigns.
We'll work with you every step of the way to understand your unique marketing objectives and design, implement and maintain compelling Google Ads that resonate with your audience.
Want to check in on how your ads are performing?
Our transparent reporting system provides detailed insight into your ad campaigns and how your business stacks up against the competition.
Use the data to tweak your ads, take advantage of new keywords and plan future campaigns.
Where will your company be in three months? Six months? Two years?
We know predicting future growth can be tricky, which is exactly why we offer our Google Ads services on a no-contract basis. Enjoy the certainty and flexibility that comes with knowing you're free to leave whenever you feel like it.
Our simple step by step process
1. Initial strategy session
We'll sit down with you to get a better understanding of your business and your marketing objectives.
We'll pick your brains about the products and services you want to promote, the challenges you face and your current marketing mix.
Next, we get stuck into the research. After identifying  the best marketing mix for your objectives and auditing your current Google Ads campaigns (if applicable), we'll
suggest a marketing budget and present you with a proposal. We'll also discuss expectations and agree on when to launch your campaign.
Your campaign has been launched – congratulations! We'll continue working behind the scenes to ensure your marketing campaigns are performing well. Your dedicated Marketing Advisor will work with you and your team to guide your digital marketing strategy and help you understand what the numbers mean for your business.
Claim your free digital strategy session:
Want to know how to get the most out of your web presence? Book a free 30 minute strategy session and digital audit with one of our experts.